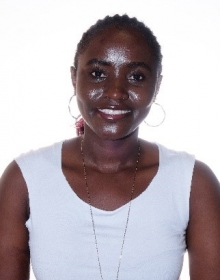 Mercy Opiyo
Mercy Opiyo is an Entomologist at the UCSF Malaria Elimination Initiative (MEI). As part of the MEI team, she provides technical expertise, capacity building, and mentorship on entomological surveillance and vector control to national malaria control programs (NMCPs) and local partners in sub-Saharan Africa. Mercy is currently based in Spain, and will move to Mozambique in early 2022.
Mercy is also currently affiliated with the Barcelona Institute for Global Health (ISGlobal) in Spain and the Manhiça Health Research Centre (Centro de Investigação em Saúde de Manhiça or CISM) in Mozambique. Prior to joining the MEI, she worked as a Medical Entomologist at ISGlobal and CISM, primarily leading several entomological studies at CISM as part of the Mozambican Alliance Towards Elimination of Malaria (MALTEM). In this capacity, Mercy's work focused on improving the impact of vector control tools in order to guide NMCP decisions on when and where supplementary interventions and improvements were needed. Within the scope of this work, she assisted NMCPs in understanding where and how human, vector-related, and intervention-related factors led to gaps in protection in communities after the implementation of vector control tools. Mercy also previously worked as a Medical Entomologist at the Ifakara Health Institute (IHI) in Tanzania and at the International Centre of Insect Physiology and Ecology (icipe), Kenya in collaboration with the Liverpool School of Tropical Medicine (LSTM), UK.
Mercy holds a PhD in Medicine and Translational Research from the Universitat de Barcelona (University of Barcelona) in Barcelona, Spain, as well as an MSc in Biology and Control of Vector Borne Diseases from the LSTM in Liverpool, UK. She is Kenyan and has a keen interest in motivating and capacitating more women to take on leadership roles in entomology and vector control. Over the last 10 years, Mercy has had the opportunity to work in various African countries, including Kenya, Uganda, Tanzania, and Mozambique.