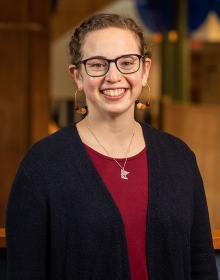 Sydney Fine
Study Research Coordinator
Sydney is a Research Study Coordinator for the UCSF Malaria Elimination Initiative (MEI). In this role, Sydney supports the coordination of a clinical trial in Iquitos, Peru by monitoring project data collection, developing standard operating procedures, and assisting with data analysis for publication. Sydney is passionate about working to reduce the burden of infectious diseases worldwide in a sustainable and equitable manner.
Prior to this role, Sydney studied household respiratory virus transmission at the University of Michigan. She also conducted HIV evolution research for two years at the Fred Hutchinson Cancer Research Center using a novel CRISPR screen technique to identify HIV restriction factors.
She holds an MPH in Global Health Epidemiology from the University of Michigan and a BA in Biochemistry and Molecular Biology and Spanish from The College of Wooster.